Because I'm certain you hunger for more of my amazing insight.
479. "Lady Marmalade"-Patti LaBelle
I honestly didn't think I was going to like this track before I listened to it. Turns out it's REALLY catchy. It'll be stuck in my head for the next week now. The vocal arrangement is genius and really adds much more to the famously dirty lyrics. I can see where this would have been a big dance hit in it's day, it defiantly makes you want to get up and groove.
478. "White Rabbit"-Jefferson Airplane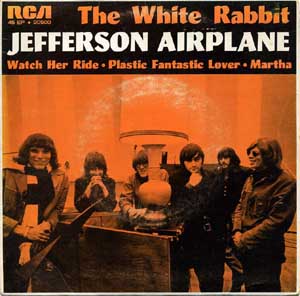 I admit that I really only listen to this song when I'm sick and just want noise to occupy my thoughts. This track really pioneered the genre of acid rock, and I'm guessing that when one is on acid this song takes on new meaning (but then again doesn't everything?). Grace Slick's voice is perfectly unusual and fits the song perfectly with it's strong alto. It's a great song on occasion, but other times it just gives me a headache.
477. "Super Freak"-Rick James
Really? Super Freak? I have no idea how this song could possibly be anything but the butt of many Rick James jokes. Sure, it's catchy and it will stay in your head for time and all eternity, but there are just so many better songs out there that you could put in this spot.
476. "I Want To Know What Love Is"-Foreigner
This song is as cheesy as they come, but we all love some good cheese. If you ever attended a high school dance during the 80's I'm sure you slow danced the heck out of this one. (although I really can't say because I was obviously not there.) It's full of melodrama and it builds until it finally gets to a gospel choir joining in on the chorus. The good thing about this song is the vocals which just sound heartbreaking. It's a good song, just not a great one.
475. "Sabotage"-The Beastie Boys
The Beastie Boys are the most overrated group in the history of music. The only song of theirs that I sort of like is "Fight For Your Right To Party" but it pretty much ends there. So needless to say, I came in and expected to hate this track. I was actually pleasantly surprised. It takes them into more of a rock place and doesn't have as much rapping as they are known for usually. The guitars are great and I'm pretty sure I've heard it several times before on car commercials. It's kind of got a highlight reel quality, much like "Remember the Name" by Fort Worth. Pretty good track overall.
474. "One Nation Under a Groove"-Funkadelic
I make no secret of the fact that I loathe the genre of funk. This song didn't do anything to change my mind, but I didn't hate it either. It was just O.K. The vocals on this song we're really good and actually kind of funny, they didn't just lend themselves to funk they also had elements of soul. The production on this track is also excellent and actually very current. My complaint: It's super long at 7:29.
473. "Do Right Woman, Do Right Man"-Aretha Franklin
A gorgeous track from the queen of soul. I had limited knowledge of the Aretha Franklin catalogue, but this is definitely on any essential list. The piano on this track is beautiful and it's just the icing on the cake which is her vocal. It just oozes through the speakers with ease and you feel like she's singing right to you.
472. "Where Did Our Love Go?"-Diana Ross and the Supremes
This is the Supremes at their peak. Their harmonies are spot on and the production is classic motown. The thing is, this track sounds almost exactly like "Baby Love" which I consider to be a better track. Nonetheless, it's worth a listen but you won't be raving about it.
471. "On the Road Again"-Willie Nelson
I am by no means a country music expert. However, to me Willie Nelson sort of transcends country music and appeals to all sorts of different genres. This track is Nelson at his best vocally, he just sounds so happy. The Guitars are very rock and roll more than they are country. Good times were had by all on this track.
470. "Free Man in Paris"-Joni Mitchell
Like the Smiths, I had heard people talk about Joni Mitchell, but I hadn't heard that much of her repertoire. This track is the pure definition of ear candy. It just pleases your brain and makes you want to sway along with it. The lyrics are what make this song however. Mitchell again fires off her trademark thought provoking poetry set to music.