Hope Everyone is having a great Wednesday afternoon :D
439. "Pink Houses"-John Cougar Mellencamp
I never did much care for John Cougar Mellencamp. This track doesn't really stand out from the rest of his stuff, it sounds almost exactly like "Our Country". It's very patriotic and all, but I'd rather skip this track entirely.
438. "I Wanna Be Your Dog"-The Stooges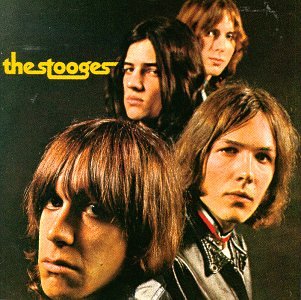 As is obvious by looking at the above album cover, this track comes from the Stooges first album which was produced by The Velvet Underground's John Cale. This track has an almost sonic guitar riff that just bruises your eardrums in the best way possible. You can really see the roots of punk rock being forged here, but there's also elements of a Led Zepplin type sound here too. A good track, although I personally prefer "Search and Destroy" more.
437. "Love Me Tender"-Elvis Presley
This track is actually adapted from an old civil war ballad called "Aura Lee". It's beautifully simple, it really is just Elvis and his acoustic guitar. I remember hearing somewhere that this song was actually devised to capitalize on Elvis's sex appeal and to get the girls to swoon. Either way, it's still a beautiful and romantic track I'd definitely recommend.
436. "Alone Again Or"-Love
I had never even heard of the band Love before listening to this track. I couldn't figure out if this track was trying to be more prog rock or a straight up ballad. Nevertheless, it was still a really good track that I enjoyed. The lyrics are sort of mysterious and distant, but there's still an element of a love song in them. The production is perhaps a little overwhelming, but it's nothing the listener can't get past. A good, kind of weird track.
435. "Beast of Burden"-The Rolling Stones
This is one of my favorite Rolling Stones songs. It's a low key, lazing around in a hammock on a summer afternoon type of track. Keith Richard's guitar is great, but his harmonies with Mick Jagger are better. It almost has a reggae element to it, but it still stays true to the rock genre. It's just a lovely track overall that I am putting on my summer playlist right away.
434. "Mustang Sally"-Wilson Pickett
The first thing I noticed about this track was Wilson Pickett's great vocal, which is very reminiscent of Little Richard. It's a pretty straightforward soul track, and it grooves underneath a great horn section. A good song, nothing spectacular. I'd really have to be in a certain mood to appreciate this one fully.
433. "Ramble On"-Led Zepplin
This track is classic Led Zepplin, where it starts out as a simple little acoustic diddy, but then it turns into a full on rock song. This song is actually very similar to "Over the Hills and Far Away" but the guitars are heavier on this track. It's a good song, something I'd expect to hear on my local classic rock station. The chorus is by far the best part of this track, with the crunching guitars and Robert Plant's screeching vocal.
432. "Midnight Train to Georgia"-Gladys Knight and the Pips
The first thing that hits you with this track is just how lushly dramatic it is. Gladys Knight's vocals are excellent and soulful, and you can feel the pain in her voice. The pips, well, they just do whatever it is they do. This does come from the 1970's, but it doesn't have the classic cheesy 70's soul production. An excellent soul track.
431. "Ain't That a Shame"-Fats Domino
This track is INSANELY catchy. The piano riff is perfectly complementary to the chorus that will stay in my head for days and days on end. I hadn't heard much of Fat's Domino's catalogue before hand, but I'm already convinced that this is his best song.
430. "White Man In Hammersmith Palais"-The Clash
There has yet to be a number invented that could accurately portray how many times I have listened to this song. I absolutely think it's an amazing track. It marks the point in the career of the Clash where they started moving past just straight up in your face punk to more diverse musical influences. This track starts out with a crunching Mick Jones guitar riff, but then it goes into a reggae groove, only to go back to the guitar riff. Joe Strummer's vocal is theatrical, and at the end of the track he even starts to whisper. The lyrics are about a reggae show that Joe Strummer went to that was too pop for his taste. An amazing track, I can't say enough about it.
My favorite of this bunch? There were a lot of good ones, so I'm going to say "Beast of Burden" AND "White Man In Hammersmith Palais"